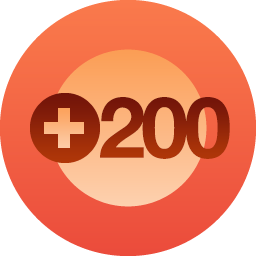 Congratulations on getting 200 total follows on
Live Life. Create Dreams.!
Your current tally is 203.
Before I begin, I would like to take a moment to thank all of you who read my blog. I am honored to be included on your reader feed. I did not start this blog in order to gain "followers" or to earn money. I started this blog because I love to read blogs and I love writing. This blog gave me a platform for my creative spirit. After a time, I found that I had become a better writer and more creative. This blog and all of my readers have become my inspiration–my muse. Thank you.
And now I shall begin…
I had not been paying attention to my stats lately. I am always happy to welcome a new reader, or visit blogs of those who have taken the time to visit and "Like" a post, but the stats just never seemed to matter. A few months ago, I received a notification that I had received my 500th "like," but even though I smiled when I saw it, it did not change how I feel about myself or my blog.
However, for some reason this particular notification struck me as odd in a way. First of all, I never consider the people who follow this blog to be "followers"–I consider all of you to be readers and fellow bloggers, poets, DIYers, photographers, dreamers and livers of life. We are all creative people who have something in common. Secondly, this notification was unexpected. As I said, I do not pay much attention to my stats, so when I saw this, I thought, "Really? 200 people actually enjoy my blog enough to see it in their daily reader feed?"
This prompted me to review my blog. What is it that draws people to it? It's a mess in my opinion. I am extremely eclectic, so unlike most of your blogs and other bloggers on WP, my blog does not have a central theme or focus. That is unless you consider the theme and focus to be creativity. I would say that I am a creative person, even if my creativity happens to be eclectic. I suppose there is a little bit of everything except politics and religion on my blog. After all, life does not happen in tidy little themes and is anything but a focused topic! Last week I was considering starting a new blog titled "Chic by Angelique" in which I would post my DIY, Interior Decorating, and projects. It would have a theme. It would be focused. But then I thought, "what about my photography, poems, and musings? Where would I post them?"
I've been at this juncture before. I even wrote a
post
about it (oddly enough, it was exactly one year ago). Do I exit now or stay the course? I have finally made a decision. I will keep this blog as it is–chaos and all–but, because I eventually want to continue selling unique pieces when I return to the states, I will also post to
Chic by Angelique
. Eventually I would like to have a booth at a flea market or antique mall. Before we received orders to move to Germany, I had already made plans to open a booth. I even had cards and a large advertising car magnet made. I even had a website at one point. So, moving all of the DIY posts to the new blog is next on my agenda. Thanks to WordPress, the transfer of my current posts is seemless and easy. But don't worry–I will also post them here!
Again, I thank you all for reading and hope that I can continue to entertain you. Whether it is my muttering musings, my poetry, my projects, my obsession with interior decorating, my scholarly writings, or something else that drew you to my blog, I appreciate you!